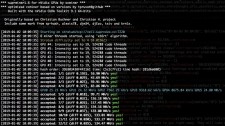 News
-
updated: Jan 2, 2019
At last, the highly anticipated Veil Mainnet is now live! The team has been working night and day for months to get to this point, but this is only the beginning. With high aspirations for merchant adoption and technical scalability, the team welcomes all people.
Veil Mainnet Launches on Schedule!
Although there is still much work to be done, the public can participate in mining, staking and trading Veil. Get started with the steps below.

We'll have more announcements and documentation on-line to keep our users completely "in the loop, and if you need any support, don't hesitate to reach out in the Official Veil Discord.
Known issues to be addressed for some user wallets:
Address book/Contacts show the wrong address type.
Three periods "..." in the address being copied to clipboard.
"This is a pre-release test build" warning has not been removed from the mainnet binaries. Please disregard the warning if you are using the mainnet binaries (version 1.0.0 and above).
Mining rewards are not viewable (the rewards are still there) when sent to a stealth address, i.e. addresses starting with "sv".
Every time the wallet is restarted new addresses are shown.
Addresses from getnewbasecoinaddress don't appear in Address book.
Funds are display late or not displayed (still visible on block explorer).
Any additional important issues will be listed here.
Share: